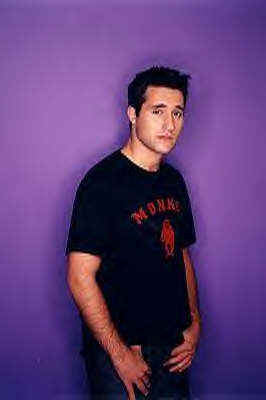 Biography Antony Costa

Hero: George Michael
Villain: Heavy Metal

Antony Daniel Costa was born in Middlesex on the 23rd of June, 1981. He orginally lived in Edgeware, but when he was six he moved to Mill Hill in North London. He was taught in what he describes as a 'posh, strict school' for one year, until the age of seven. His father is a Greek Cypriot, and one day they packed everything and shipped off to Cyprus. The weather was boiling hot all year round for him, and life was very laid back there. When he was ten, they moved back to London and he attended Hendon secondary school. He admits to being a hard worker, but was also quite a trouble maker. He had his first kiss when he was twelve, with a girl named Kelly Ridge, under a table. He is a flirt and gets 'a buzz from two-timing'. Antony was a big fan of the hit musical 'Grease' when he was thirteen. It was being staged in London's West End so his mother, who knew how much he wanted to be in it, set him up to be on 'Surprise Surprise' with Cilla Black. This was his first taste of fame, and he sang with one of the stars. This was a starting point for Antony, because after this appearance he appeared in 'Grange Hill', 'The Bill' and had a main character role in the BBC sitcom 'Chalk' ("Did you spot me?") He did love singing and took part in musicals at school, but he dreamed of being an actor when he grew up. He didn't think he could make it as a popstar until he met Duncan at auditions. Duncan convinced him that he was good enough to make it. He is described by band mate Simon as 'funny, cheeky, spontaneous, a charmer and a ladies man'. His joker personality always brightens up any dull moments within the band.

I was an absolute handful about the time this shot was taken - I used to bite people! That was my party trick. I almost bit my Godfather's eye off once cos he'd beaten me at a game! Another time, when I was about three, a girl my age wouldn't play with me, instead she kept teasing me. My mum told her to stop, saying "If you carry on, he's gonna bite you and it'll hurt!" But she didn't stop and I bit her until she bled!
I reckon I was naughty because I was spoiled rotten for the first three years of my life. I got what I wanted it, when I wanted it, until my sister Natalie came along.
When she was about two months old, I remember my mum telling me to play with her. I was playing with her all nicey nicey, when mum went upstairs, I got a shoebox, put it on her head and put sellotape all around her! How bad was that?! When she got bigger she used to get me back though!
Being naughty didn't stop when I got to primary school. My best mate was Andy - I met him when I was six. We were always being split up 'cause we'd throw rubbers at kids, and flick elastic bands. It's funny when I see people who were good at school now, 'cause they're not doing so well. I reckon you should play when you're a kid and worry about achieving stuff in later life.
I think about being little a lot. I thought I was the only one who reminicsed, but Si does too. When I see people now that I knew as a kid it's still the same. We'll still have a laugh, pretending we're in Knight Rider.

What was your favourite nosh as a kid?
Mum used to cook these little round faces. She'd use peas as eyes and fish fingers for the nose. I used to love that.

Who were your fave superheros?
Batman! He was a geezer. I used to play it with my cousin George and make him be Robin so I could beat him up!

Tell us about your teddy bears...
I got given this great papa smurf when I went to see The Smurfs do an ice show at Wembley. That rocked!

Who was your first hot crush on?
I really fancied my primary school teacher, Mrs.Tilmi. And Louise from Eternal. I wanted to marry her!